When Workers' Comp is not a fit, Occupational Accident can be a great cost-effective policy option for transportation and other types of risks, as it provides both independent contractors and business owners coverage in the event of a work-related injury, similar to a Workers' Compensation policy.
WHAT IS OCCUPATIONAL ACCIDENT INSURANCE?
Occupational Accident insurance provides coverage for independent contractors / 1099s while on the job. It's a very versatile product used across a wide scope of industries, with a focus on trucking, couriers / last mile delivery, staffing and healthcare. Occupational Accident is an optional coverage and generally can cost about 30% less than Workers' Compensation. It typically covers certain lost wages, medical expenses, and death benefits up to the policy limit. Occupational Accident Insurance can be a cost-effective coverage solution for independent contractors who are not covered under a Workers' Compensation policy.

HOW DOES OCCUPATIONAL ACCIDENT DIFFER FROM WORKERS' COMPENSATION?
The charts below illustarate some of the differences commonly found between Occupational Accident and Workers' Compensation coverages.


WORKERS' COMPENSATION vs. OCCUPATIONAL ACCIDENT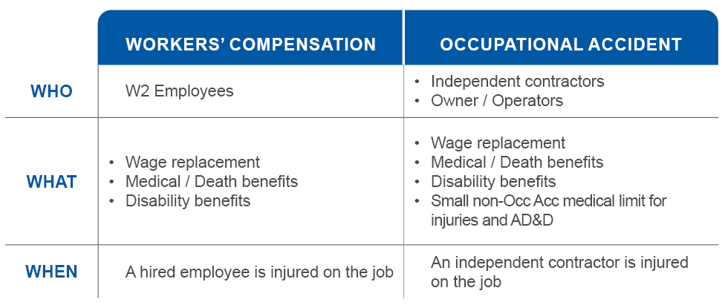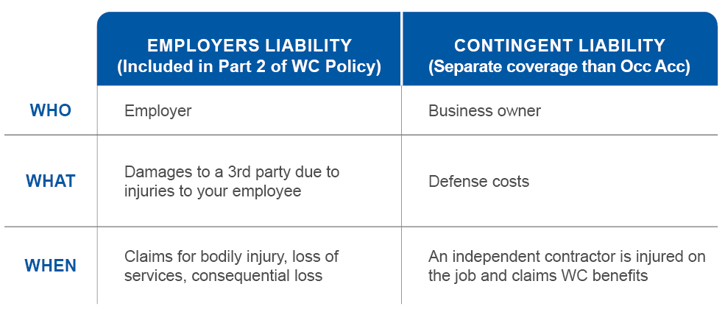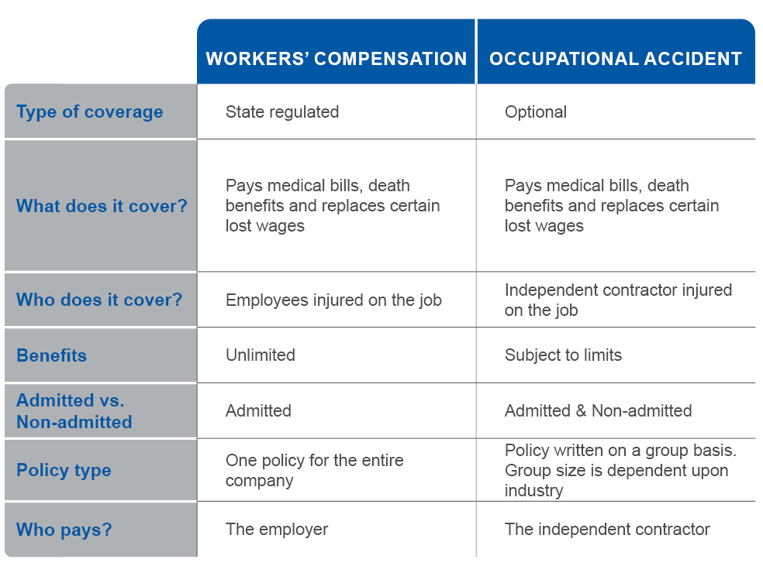 HOW DOES OCC ACC BENEFIT BOTH EMPLOYERS & INDEPENDENT CONTRACTORS / 1099s?
1099 / Independent contractor status can impose unique coverage complexities. Since 1099 paid independent contractors aren't eligible for Workers' Compensation, Occupational Accident insurance can act as a work injury protection plan designed to help 1099 paid independent contractors if they are injured on the job.

For independent contractors / 1099s - Occupational Accident helps contractors secure coverage to include medical expenses for workplace injuries & death benefits. It also typically covers certain lost wages on a temporary and permanent basis. With competitive monthly pricing and no deductible, this coverage can be very cost-effective.

For business owners - Occupational Accident coverage is proactive protection against liability exposures. An Occupational Accident and Contingent Liability policy together can serve as an added layer of protection against potential costly lawsuits against a business owner. It can also help retain good workers and keep them healthier. A win for everyone involved.

IS OCCUPATIONAL ACCIDENT AN ADMITTED COVERAGE?
Both admitted and non-admitted carriers are available, depending on class of business / situs state. Occupational Accident can often be a good option for many contractor risks that typically would not be covered under a WC policy.

IS OCCUPATIONAL ACCIDENT COVERAGE WIDELY ACCEPTED?
Previously, Workers' Compensation certificates had been the only acceptable proof of insurance. Today, Occupational Accident policies are widely accepted across Trucking and other industries and can provide coverage for workplace injuries at a lower premium than Workers' Compensation to 1099 / independent contractors.

IS OCC ACC AVAILABLE ON AN INDIVIDUAL BASIS OR ONLY AS A GROUP POLICY?
This product is usually written as a Group Policy and can require a minimum number of Lives or Drivers dependent upon class.

WHY ARE WE SEEING SO MANY MORE 1099s / INDEPENDENT CONTRACTORS TODAY?
Freelance work opportunities have grown exponentially across the United States. The increase in gig economy workers stems from the many digital platforms that connect workers with different clients for assorted temp jobs or contracted work in a variety of industries.

• Cost: It's cheaper. Employers save by avoiding payroll tax obligations, reducing benefit outlays and achieving more utilization of labor.

• Technology: It's possible. Affordable, accessible software and wireless infrastructure has put mobile connectivity at people's fingertips.

• Lifestyle: It's preferable. Contractor status may offer certain advantages, such as greater flexibility and control over the nature and timing of work.

As more and more industries like overnight delivery, home healthcare and rideshare expand and move towards an independent contractor model, Occupational Accident can be a great, low-cost alternative to Workers' Compensation for the 1099 workers hired to support these growing businesses.

WHICH INDUSTRIES HAVE TRADITIONALLY TAKEN ADVANTAGE OF OCCUPATIONAL ACCIDENT?
Many transportation-related clients are well-suited for Occupational Accident. Historically, Occupational Accident began as a solution to provide benefits to trucking owner-operators, as drivers paid by 1099 can benefit from this coverage, due to their independent contractor status.

Couriers naturally became another top class, as carriers could easily transition from underwriting one type of logistics risk to another.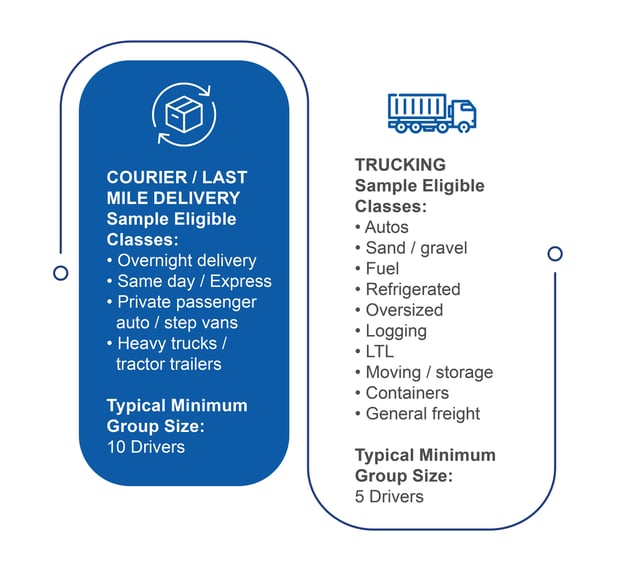 OCCUPATIONAL ACCIDENT IS ALSO NATURAL FIT FOR THESE INDUSTRIES: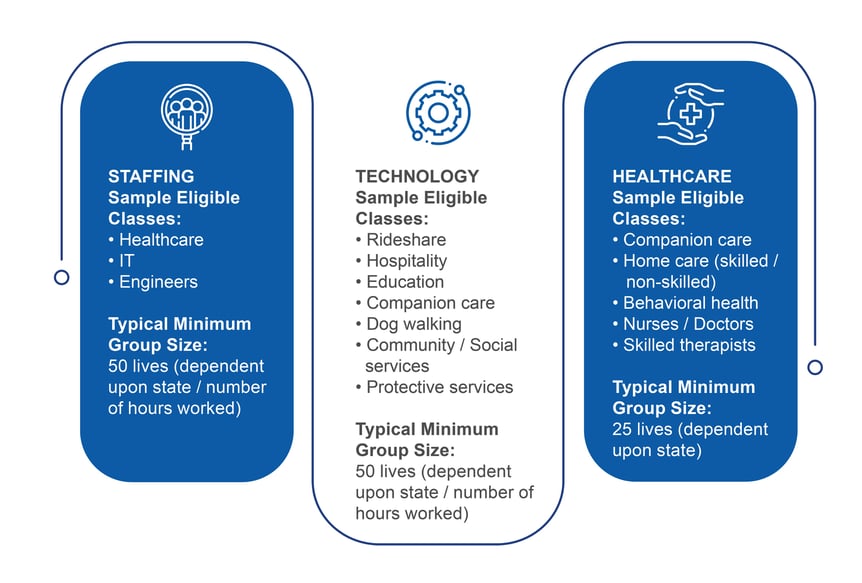 WHAT EMERGING CLASSES ARE WELL-SUITED FOR OCCUPATIONAL ACCIDENT TODAY?
Many emerging classes are taking advantage of this cost-effective coverage, ranging from warehouse auditors to groups that set up grocery store displays! Occupations such as golf caddies, landscapers and realtors, are also good candidates.

In addition, start-ups that essentially work as modern-day staffing companies are popping up quite frequently in a variety of industries, such as hospitality, healthcare, and professional services. Occupational Accident has become a popular coverage for many of these "non-wheels" types of businesses.

As the economy continues to trend towards "gig" work, Occupational Accident can be a good fit for tech-based companies, including, independent contractors, online platform workers, contract firm workers, on-call workers and temporary workers, among others. Today, job seekers can access different apps to find short-term work, when and where they want it.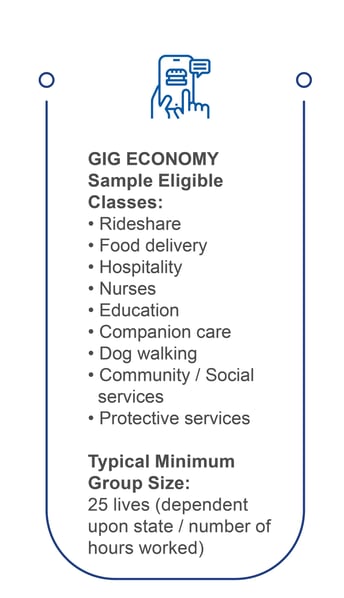 EXAMPLES OF OCCUPATIONAL ACCIDENT "GIG ECONOMY" ACCOUNTS:
Dog walkers, college students spending time with senior citizens, restaurants filling in last-minute "front and back of house" positions such as bartenders or dishwashers, as well as event security, substitute teachers, brand ambassadors and more.

OTHER POTENTIAL GREAT FITS FOR OCCUPATIONAL ACCIDENT COVERAGE:
• A company that connects caddies with golfers via a mobile application. Caddies sign up on the app and make themselves available at the hours of their choice. Golfers access the app to contract a caddie based on availability. It's a great example of technology simplifying the process of linking a consumer to a service provider. As out-of-the-box businesses like this continue to emerge every day, Occupational Accident can be worth considering for these types of gig economy tech companies.
• A company that connects property managers and homeowners with landscaping professionals to mow lawns, shovel snow, etc. Landscapers pay for coverage based on the number of tasks they complete in a given month. They only pay for benefits when they are working, making this policy, potentially, a great value for the contractor.

• While realtors work under the direction of a broker, they are still typically paid on a 1099 basis. Many realtors choose to join either regional or national associations. Common types of exposures that realtors are up against include motor vehicle accidents, slip and fall hazards, or assault. Occupational Accident may be worth considering as it could provide them not only Accident Medical, but Accidental Death and Dismemberment, Disability and Wage Replacement as well.

WHY ADD A CONTINGENT LIABILITY POLICY?
A business owner with full-time employees and independent contractors may benefit from a Workers' Compensation policy combined with an Occupational Accident and Contingent Liability policy. A supporting Contingent Liability policy can afford a business owner protection in the event a contractor opted to claim WC benefits.
HOW ARE OCCUPATIONAL ACCIDENT RISKS PRICED?
In order to formulate a cost-effective rate, risks are customarily priced a using a flexible rating modality, tailored to specific business operations that makes the most sense, such as by the hour, by the project, or by the mile.
ARE CARRIERS EVOLVING IN REGARD TO THE RISKS THEY WILL CONSIDER WITHIN THIS SPACE?
Carriers are constantly evolving to keep up with the needs of an ever-changing workforce. As some industries move into a more flexible, short-term work model, carriers have been expanding their appetites from writing only traditional risks such as Trucking, to now providing a valuable solution for more modern gig economy type accounts.

HOW CAN OCC ACC PROVIDE A GREAT OPPORTUNITY TO GROW A BOOK OF BUSINESS?
Independent contractors benefit from the freedom and flexibility of freelance work but may be missing other crucial offerings typically available to an employee. This increasing trend offers a great opportunity to grow a book of business.

An Occupational Accident and Contingent Liability policy together can serve as an added layer of protection against potential costly lawsuits against the business owner. It can also help retain good workers and keep them healthier. A win for everyone involved!

Our knowledgeable workers' compensation team can answer additional questions you may have regarding Occupational Accident and other work comp related topics.

Check out additional Workers' Compensation related quick Q&A content including waivers of subrogation, experience modification (E-Mods), payroll reporting, lapses in coverage and deductibles!
This material is provided for general information purposes only and does not constitute legal or professional advice. No warranties, promises, and/or representations of any kind, express or implied, are given as to the accuracy, completeness, or timeliness of the information provided in this material. References to typical terms or provisions of coverage are illustrative and may not apply to a specific situation. No user should act on the basis of any material contained herein without obtaining proper legal or other professional advice specific to their situation.

RT Workers' Comp operations are conducted by RT Workers' Comp Specialty, a part of the RT Specialty division of RSG Specialty, LLC (RSG Specialty) and by International Facilities Insurance Services, Inc. (IFIS). RSG Specialty is a Delaware limited liability company based in Illinois. IFIS is a California corporation based in California. RSG Specialty and IFIS are subsidiaries of Ryan Specialty, LLC. RT Workers' Comp works directly with brokers, agents and insurance carriers, and as such does not solicit insurance from the public. Some products may only be available in certain states, and some products may only be available from surplus lines insurers. In California: RSG Specialty Insurance Services, LLC (License #0G97516) and International Facilities Insurance Services, Inc. (License # 0B23543). ©2023 Ryan Specialty, LLC